Staying on the Ball: Are Fitballs a Good Idea at Work?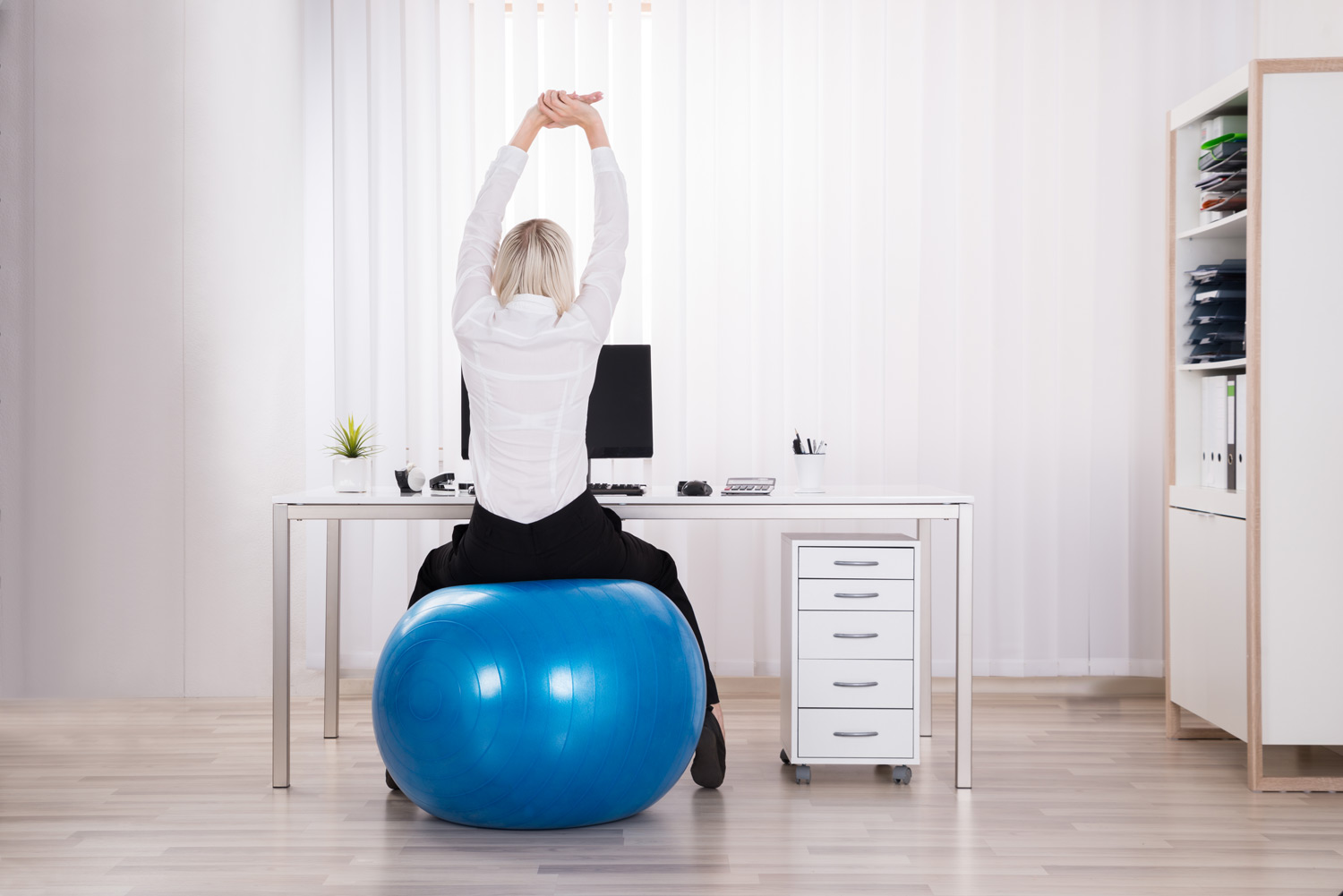 The inflatable exercise ball phenomenon as a replacement for the clunky office chair gained traction due to its fashionable Pilates-like core-strengthening component. Several years on, what is the impact of 8 hours on the orb?
For people in the corporate sector who clock on the daily 9-to-5, the hype around unconventional workstations has grown due to the emerging importance of employee health and WHS (Work Health & Safety) standards.
Standing desks alone have been responsible for a sizeable shift in the way staff and management view their office.
Yet, there is one piece of workplace 'furniture' that fitness fanatics have been embracing since the early noughties – the exercise ball.
The idea of replacing your trusty swivel chair with a swiss ball may have been bouncing around in your head for a while, with good intention. Fans of the fitball claim their ability to engage your core while you hammer away at the keyboard is akin to fitting in an ab workout without having to visit the gym.
All-too brief bonus
Indeed, the effort required to stabilise yourself on the inflatable sphere does, in theory, sound like a genius way to improve balance and promote perfect posture, while burning calories.
You can torch just over 4 calories per hour sitting on an exercise ball.
However, this is only when you're sitting in the correct position, which takes focus and can therefore lead to employee fatigue and lack of concentration. Studies have shown most people can only hold the ideal posture for 20 minutes at a time.
Under professional guidance by a qualified instructor or health professional, gym balls can be used for physical rehabilitation, according to a statement from WorkSafe Victoria, however, only if used correctly.
Thrown a curve ball
There have been a number of clinical studies conducted on swiss balls, and despite the mild calorie-burning bonus, the results spell disappointment for employers who've plundered the nearest sporting outlet for their office fit out.
Unfortunately, the reality of 8 hours of ball-sitting bursts that bubble, with increased soft tissue strain due to the lack of arm and back rests, which help to help lower tension on the neck, shoulders, arms and wrists.
After observing the daily use of fitness balls for a group of men and women, one 2006 study concluded they offered no long-term improvements in posture. Rather, they decreased the comfort of the worker using it.
An expert opinion
"Providing fitness balls in a workplace may place the employer at risk of introducing a hazard," a statement from WorkSafe Victoria warned.
In fact, there are a number of safety issues the balls may introduce to the office environment, including the inability to swivel and the balance risks associated with getting on and off the ball. There's also the harm they could cause if they roll away from desks and become obstacles for other staff members.
There are alternatives within the practical workspace that will help staff avoid the pitfalls associated with prolonged sitting, which include moving around more and having your workstation assessed by a WHS specialist.
While taking frequent breaks to stand and stretch offers substantial relief from a sedentary job, the importance of the right ergonomic set-up cannot be overstated.
If you're considering introducing exercise balls at work, even in your relaxation zones, talk to your local ergonomic professionals to create an environment that is safe, comfortable, and doesn't do away with the occasional office chair race.